Great Outdoor Weddings
Make the most of Devon's spectacular scenery with an outdoor ceremony & reception
If you've always dreamed of an outdoor ceremony, surrounded by countryside and the most incredible views that go on for miles and miles, then the unique and breathtaking backdrop of the Tamar Valley will provide the perfect place for you to say 'I do'.
There is something magical about our outdoor weddings; the stillness, the quiet and the view all combine to make these ceremonies some of the most special we do.
Your big entrance…
If making a grand entrance is one of your top requirements, then you'll just love our long flight of lavender edged steps, which lead down onto the lawn for your ceremony. There'll be plenty of time for you to take in the moment, and for your guests to appreciate your stunning dress.
Magical photo opportunities
Our view overlooking the Tamar Valley is often said to be a photographer's dream, so no matter if your ceremony is outdoors or inside, you can be sure that your photographer will try to make the most of the light as it hits the valley in the early evening; the golden glow just before sunset makes for glorious romantic images.
Your space to enjoy
Having an outdoor wedding means that you'll have a lot more space — the only thing you'll need to decide is how you'd like to fill it! We've got plenty of ideas of what works well, from vintage games, to tug of war, archery and croquet. So whether you've already got an idea in mind or you're wanting a little inspiration from us, we'll help ensure your day is perfect in your own unique way.
The legal bit…
As we hold a licence to host wedding ceremonies, you are able to get married outside, weather permitting.
Don't ever be put off by the weather
If you think that planning an outdoor wedding in the UK would lead to you stressing over the weather, don't let it put you off! We'll jointly make the decision on whether to hold your ceremony outdoors or inside the day the morning of your wedding; but no matter what the weather, we'll always make sure your day is truly special. With four rooms licenced for civil ceremonies, there's still a choice when it comes to where you say 'I do'.
Your award-winning wedding breakfast and evening reception
Looking for a wedding venue with great food? Our award-winning restaurant is renowned throughout the region for its quality, and you'll have the opportunity to develop your own bespoke menu in conjunction with our Chef, with a choice of menu options. In the evening, our dance floor leads directly onto our patio, so that guests can flow seamlessly between indoor and outdoor spaces, giving everyone plenty of space to mingle and enjoy the night.
Why choose us?
Georgian Country House
Gorgeous gardens with stunning views
Optional outdoor ceremony
Award-winning food; create your own bespoke menu with the help of our Chef
Highly tailored to you
Choice of 4 ceremony rooms
Ideal for up to 90 guests in the Main House, or up to 150 guests in a marquee

To discuss your outdoor wedding in Devon, please give us a call on 01822 832 528 or email us at weddings@thehornofplenty.co.uk. We'll be happy to answer any questions you have or arrange a viewing for you.
We offer weddings in all different shapes and sizes, and are happy to tailor the day around you. Other options include: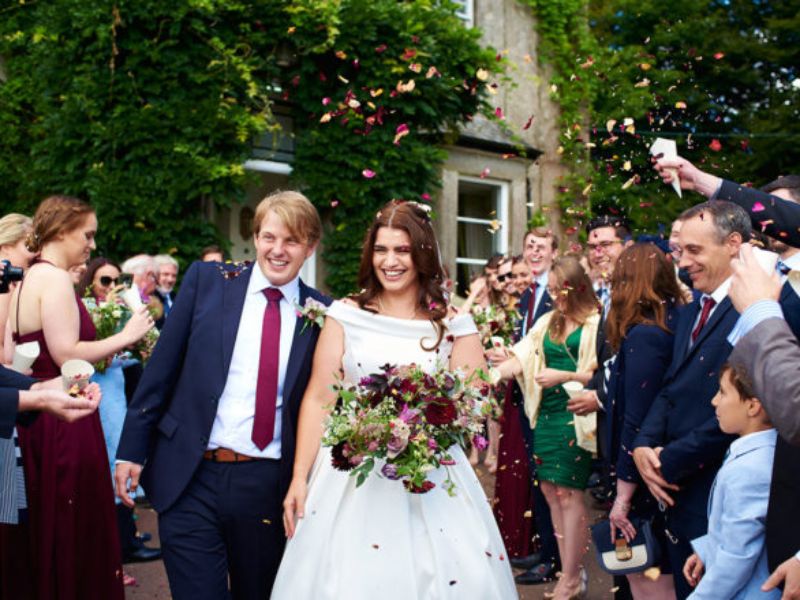 Exclusive Use Weddings
Ideal for 30-90 day guests, and up to 120 evening guests. You would have exclusive use from 11am on your wedding day until 11am the following day. We do ask that you fill all 16 bedrooms.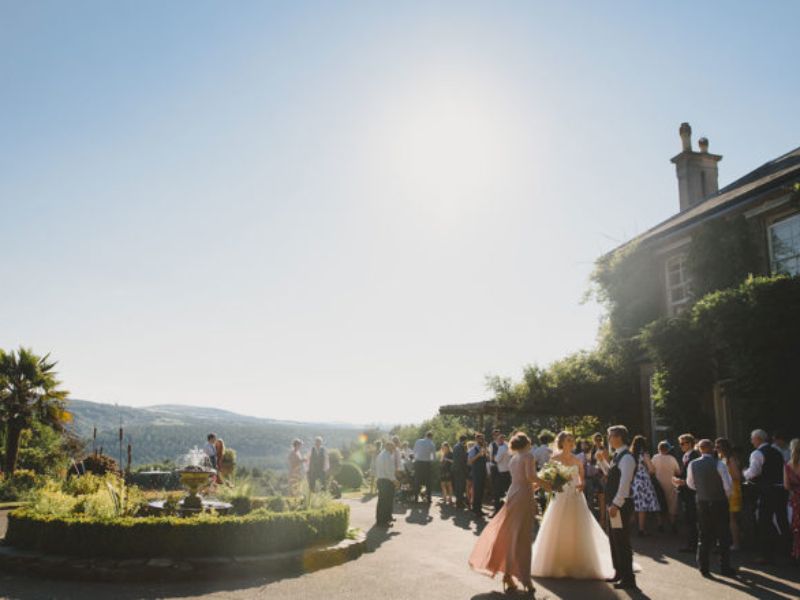 Weekend Weddings
Ideal for 30 – 90 day guests, and up to 120 evening guests. Perfect for those with friends and family scattered across the country and beyond. Create memories that will last a lifetime.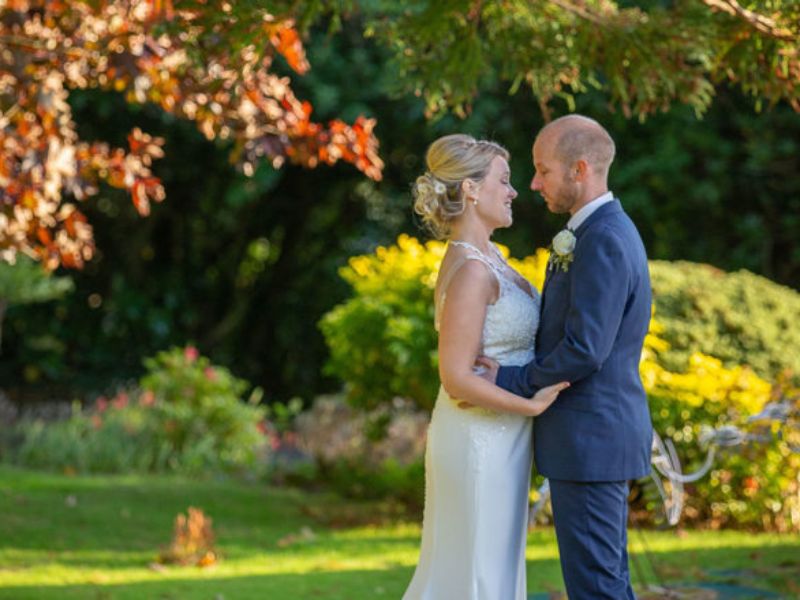 Afternoon Weddings
Best suited for 20-90 guests if you don't want any evening entertainment, and don't want to commit to any rooms. You'd have exclusive use of the ceremony room/bar/lounge/restaurant from 12 noon until 5pm.