Top Dog Walks in West Devon
A collection of our favourite dog walks, each very pretty, each with a unique aspect. Your dog will thank you for the adventure and you'll thank them for the memories.
Cotehele to Calstock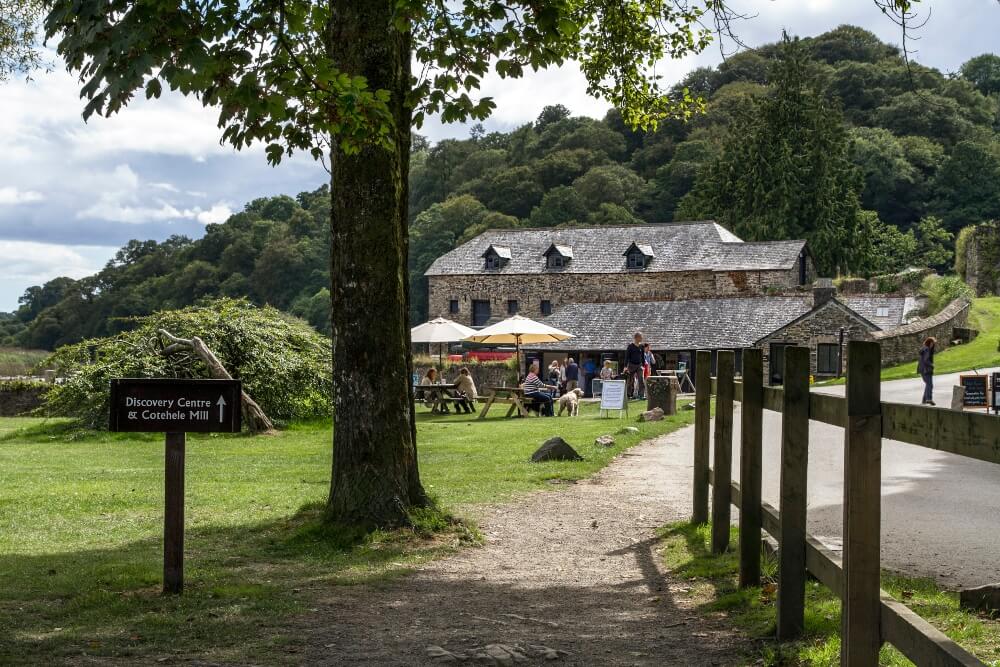 Start: Cotehele Quay Car Park, PL12 6TA (approx 5 miles / 15 minute drive from The Horn of Plenty)
Grid reference: SX422684
Distance: 5.9 miles / 9.5km
Difficulty: Moderate
This walk takes in the Tamar Valley an Area of Outstanding Natural Beauty (AONB). You'll begin taking in the beautiful National Trust Tudor mansion Cotehele House and its gardens, the River Tamar and a multitude of historic buildings. Stop off in Calstock if you like at one of the pubs for some refreshment or Edgecumbe tea-room where dogs are more then welcome inside and out.
Read this great guide to enjoying Cotehele with your dog. It includes a list of places with clean water for your dog and a map of bins for waste.
There are no stiles to contend with along this route but there are a couple of descents and climbs. Some sections require a lead and venture onto the road and there are a few bottlenecks, but you'll soon be distracted again by the sheer beauty of this trail. Respect the wildlife and enjoy the freedom to explore the woods, streams and river.
There is a fee for the Quay Car Park (currently coin payment only) unless you are a National Trust member.
One to visit over, and over again as it changes throughout the seasons.
Tavy Cleave and Hare Tor Walk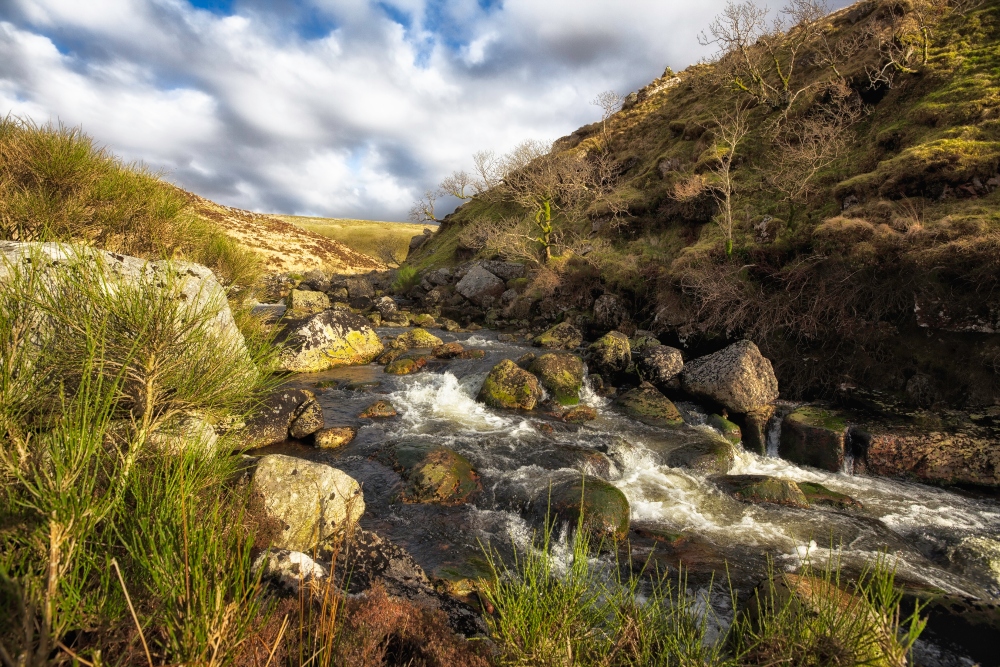 Start: Peter Tavy, Tavy Cleave, Tavistock, Devon, PL19 9LZ (approx 8 miles / 20 minute drive from The Horn of Plenty)
Grid reference: SX537824
Distance: 4.5 miles / 7km (can be extended to 9 miles / 14.5km)
Difficulty: Moderate to hard
Meander along the lanes from Mary Tavy until you reach a car park at Lanehead (SX537824). This walk is for the true adventurer. Discover several leats on your route, reminders of the areas mining past. Come across small riverbank tracks to navigate and boulders to negotiate testing you both on this route into a cleave which rises from the River Tavy.
You'll emerge from the wilderness of the cleave as you ascend Hare Tor. Cross on a little further to Ger Tour and you'll be rewarded with the best view of whence you came. A spot to take a breather and a few pics.
It's nice to know that it's downhill from here back to the car park. Note this walk is within the Dartmoor Firing Range, so please check times before heading out.
Fancy more of a challenge? Take the turning for Sandy Ford and head to Fur Tor doubling the distance to 9 miles.
West Devon Way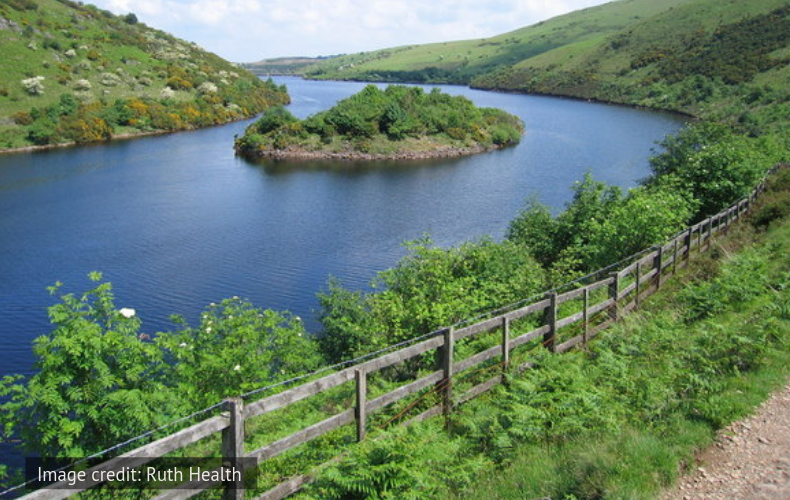 Start: Okehampton, Devon, EX20 1HQ (approx 20 miles / 35 mins drive from The Horn of Plenty) or join at Tavistock (approx 4 miles / 4 mins drive from The Horn of Plenty)
Grid reference: SX587951
Distance: Routes from 3 miles (4.8km) to 7 miles (11.3km) – one way
Difficulty: Easy
The West Devon Way explores the western edge of Dartmoor and covers 37 miles from Okehampton to Plymouth. We love that this route has been split up into 8 stages, some circular others providing options but all with bus links. Use this handy Traveline South West app to plan your journey.
A recreational network passing through villages with opportunities for refreshment, toilet stops and parking making for a great day out on the western edge of Dartmoor National Park. In the summer the land tends to be quite dry, in the winter be prepared for muddy paws and boots as you may encounter marshy patches.
The shortest stage for walking starts at Marsh Mills in Plymouth and runs for 3 miles (6 miles return if you walk the length). The longest walk is Tavistock to Yelverton at 7 miles one way. You can make a detour here for Meldon Reservoir, a circular walk of 2.2 miles or 1.4 if you cross the viaduct or park and join the route and the disused railway at your leisure.
Pew Tor & Windy Post Cross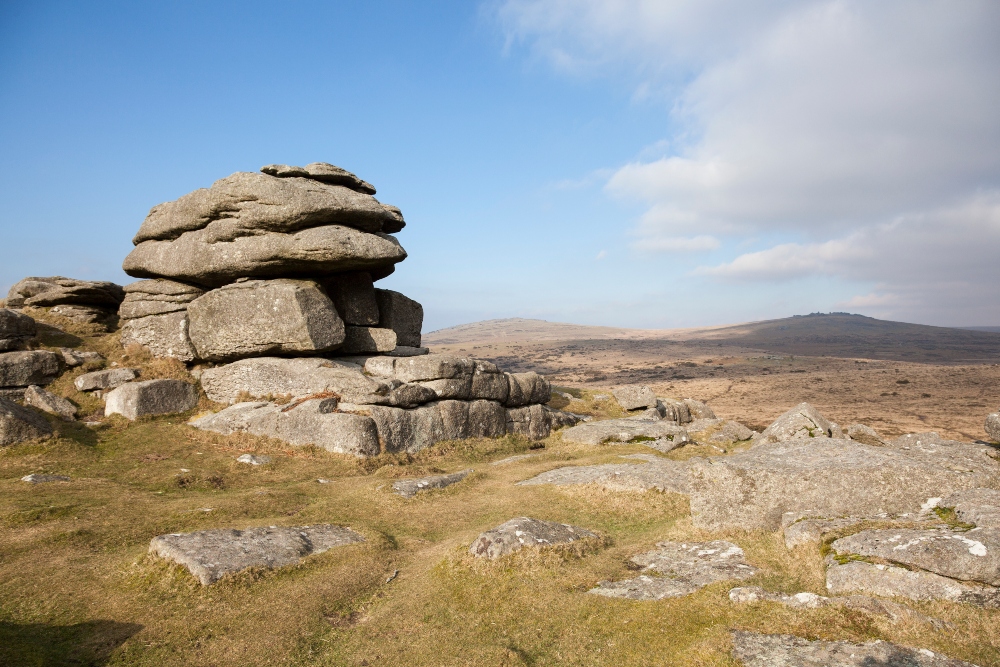 Start: Pork Hill, Tavistock PL19 9LQ (approx 7 miles / 15 mins drive from The Horn of Plenty)
Grid reference: SX531751
Distance: 3 miles / 4.8km
Difficulty: Easy
A lovely easy circular route over moorland from Pork Hill car park that takes you up to Pew Tor, a mile and a half trek. Turn around here and take in the vista of Tavistock from the top and plan your path to neighbouring Feather Tor. On route there's a chance of a dip in the stream and a pretty spot for a picnic.
There's plenty of open space for a good run before arriving at Windy Post Cross – real name Beckamoor Cross, a marker for Abbots Way, an old track used by monks possibly in the 16th Century if not earlier.
Follow Grimstone & Sortridge Leat, which services surrounding farms, back to the car park. Be ready to come across sheep and the infamous Dartmoor pony on this walk, inquisitive but well-behaved dogs will be fine, use the lead at your discretion so as not to spook livestock.
Two Bridges to Wistman's Wood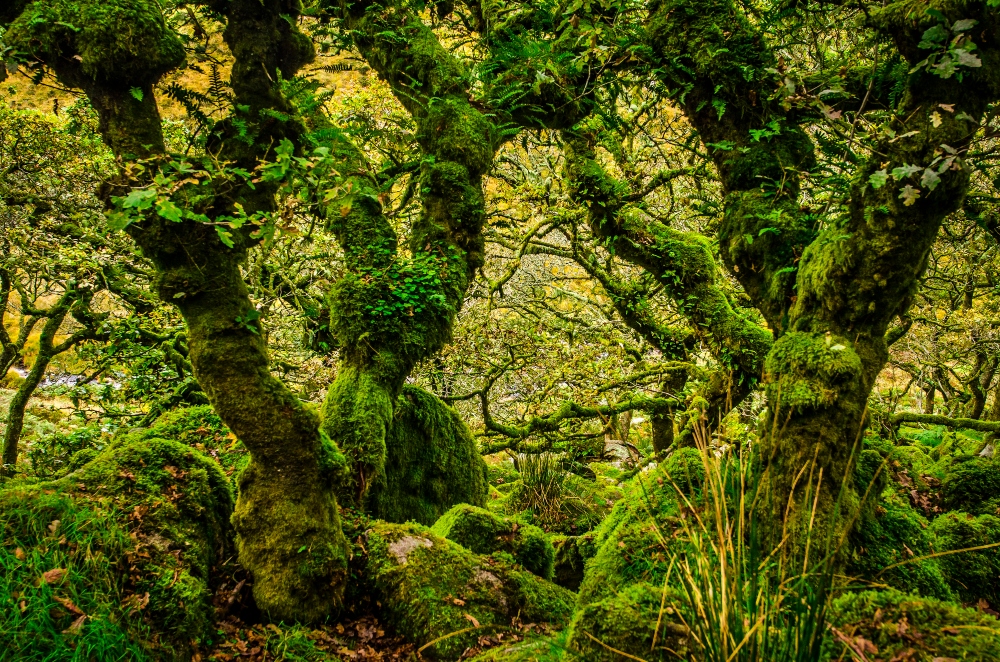 Start: Two Bridges, B3357, Dartmoor Forest, West Devon, PL20 6SW (approx. 12 miles / 20mins drive from The Horn of Plenty)
Grid reference: SX609750
Distance: 10 miles / 16km
Difficulty: Moderate – changing terrain
The most enchanting and mystical of our walks. It takes in a river, a wood, open moor, several Tors, a powdermill, pine forest, array of granite stone formations, two bridges, oh and a pub! As this is quite a long walk it's advisable to dress for all weathers as it's not uncommon for the weather to change in an instance.
Start out for the 400 year old Wistman's Wood where the smooth lichen laden granite boulders provide a striking contrast to the gnarly ancient oaks and amidst an eerie stillness an light. Emerge onto moorland and a chance for a good run on the way to Higher White Tor and Longaford Tor before coming across the ruins of the old powdermills just before Bellever Forest and its majestic pines. Beware of areas of protected moorland here.
Ascend Bellever Tor for a true 360-degree view of Dartmoor at its best before heading back and quick wash of the paws by the postbridge.
Dog friendly hotels in Devon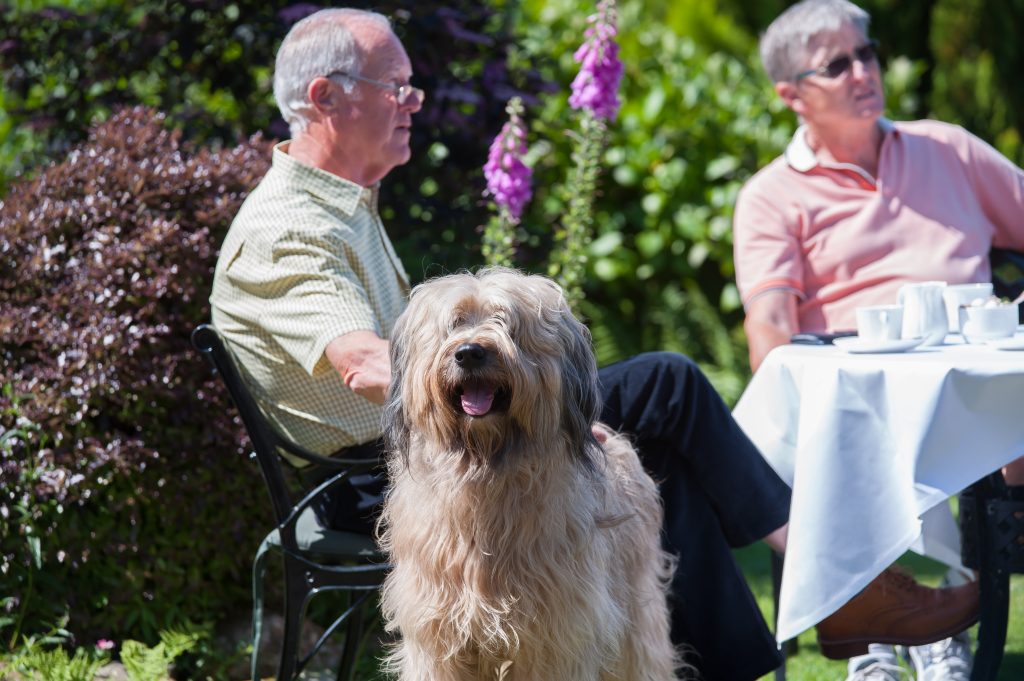 Due to popular demand, we are delighted to share that we have increased the number of dog-friendly bedrooms available to our guests, including two of our "best" rooms.
---
Published on Monday 22nd July 2019